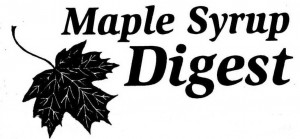 is the official publication of the North American Maple Syrup Council and is published in February, June, October and December.
The Digest contains information of interest for all who are involved with the maple syrup industry. It features research reports from US and Canadian universities and institutions on all aspects of maple syrup production, packaging and marketing. The Council provides funding annually to these research groups from contributions generated from maple syrup producers, syrup packers, and related maple businesses which support the NAMSC Research Fund.
The latest production equipment and industry related services are featured by the Digest advertisers. Manufacturers, distributors, dealers and maple industry service providers can reach over 5,000 producers throughout the maple region with their message and are invited to contact the Digest editor for more information about advertising.  mapledigest@gmail.com
Subscriptions to the Maple Syrup Digest are available as follows:
US residents  $10.00 per year     (Payable by Check or US Postal Money Order)
Canadian Residents $15.00 per Year     (Payable by US Postal Money Order Only)
Also, check with your local State or Provincial maple producers association to see if a subscription to the Digest is included in the association dues.
Payments to be made out to the MAPLE SYRUP DIGEST and sent to:
Theresa Baroun, Editor
Maple Syrup Digest
2546 Homestead Dr
De Pere, WI 54115
E-Mail: mapledigest@gmail.com
Advertising Rates
Full page $276.00
1/2 Page Vertical or horizontal $155.00
Column Inch $21.75
Classified $.80 per word
Copy deadline is first of the month preceding date of issue.